#eyeheroes Series, Issue 3;
During the COVID-19 outbreak, many ophthalmologists provided essential medical care. In our third newsletter, New World Medical recognizes the efforts of Dr. Sarwat Salim.
Dr. Sarwat Salim is an internationally recognized glaucoma specialist with a passion for humanitarian work. Besides serving as a Professor of Ophthalmology, Vice-Chair of Clinical and Academic Affairs, and the Director of Glaucoma Service at Tufts University School of Medicine, she has a deep commitment to public health and under-served communities. Her story focuses on the emotions that physicians go through and the situations they find themselves in when they are committed to improving the lives of others.
From a young age, Dr. Salim learned that public service was an essential part of life. "I credit my contributions and humanitarian work to my late father, who continues to inspire me," she recalls. Watching him and others help those in need, Dr. Salim has sought ways to share her skills and knowledge both locally and globally.
Dr. Salim has traveled extensively around the world, often to developing countries and under-resourced areas, including Iraq and Syria. She provides medical and surgical eye care, with an emphasis on skills transfer and training of local physicians, often under difficult, and even dangerous, circumstances. As part of her work, Dr. Salim has also trained many international fellows in glaucoma, in addition to training fellows in the U.S., who take these new skills to deliver quality eye care in their respective countries.
"It is gratifying and satisfying to help those in need, as it adds meaning and purpose to our own lives," notes Dr. Salim. "I am very fortunate to be in medicine, and being an eye surgeon allows me to preserve and restore sight, which is one of the most precious senses. I also hope that my commitment to community outreach and humanitarian efforts inspires others to act."
COVID-19 Brings Humanitarian Work Close to Home
The coronavirus pandemic caused events to shift. Elective procedures were canceled so that hospitals could allocate their resources to COVID-19 patients and preserve their stocks of PPE for emergent cases. However, Dr. Salim did not let her contributions come to a screeching halt. During this time, her activities not only focused on the well-being of her patients, but also on the overall well-being of her colleagues, trainees, and students.
She began to provide in-person services to urgent and emergent patients and started using telehealth platforms for routine patients to ensure continuity of care. Dr. Salim was also deployed to a COVID testing center where hundreds of patients were screened daily for the virus. Somewhat apprehensive, she was put at ease with the availability of adequate PPE for all physicians, nurses, and staff at the testing center. It was also heartwarming for her to receive tokens of gratitude from local businesses and community members, like those shown below, during this difficult and uncertain time.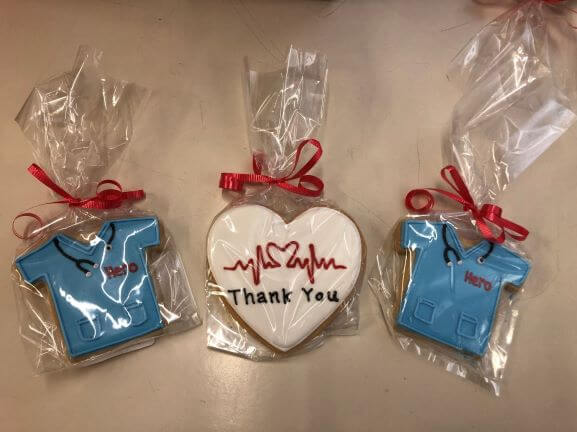 Dr. Salim did not stop her work there, as her trainees and students were also at the forefront of her mind. She started to focus on expanding educational programs at Tufts and other academic centers that consisted of didactic lectures to keep trainees engaged while they were unable to perform surgery or deliver clinical care. She also served as a research mentor for medical students who are currently applying for ophthalmology residency. Lastly, Dr. Salim became part of a buddy system within her department; colleagues would check on each other's well-being. Not initially realizing how much fulfillment she would get from her participation, Dr. Salim spent time getting to know her peers on a deeper and more personal level, creating lifelong bonds.
A Testament of Strength
After three months of lock-down, life slowly began to return to "normal." Now that the hospital began to consider re-opening elective procedures, Dr. Salim began to book her backlog of surgical cases. However, before elective procedures were re-instated, she found herself in an unpredictable situation.
While Dr. Salim was on call, her hospital received a trauma case. A young patient had sustained extensive trauma to his eye, resulting in a ruptured globe which required emergency surgery. The rupture was extensive, deep, irregular, and indicative of severe trauma. The hospital ran a pre-operative COVID-19 test. It came back positive. If it had been an elective procedure, surgery would have been delayed. However, the young patient was at risk of losing his eye, which required the need for immediate surgery. Dr. Salim was about to be the first person on her team to operate on a COVID-19 patient.
For just a few moments, fear, anxiety, and uncertainty kicked in. Dr. Salim consulted with experts, learning how to ensure the safety of her team and herself. Awash with information, she sat in her office and closed her eyes, thinking of how to proceed. "My entire life came back in flashbacks with affirmations of why I became a physician, why I chose academic medicine, and why I chose international work," Dr. Salim recalls, "It's my calling." She found profound strength and realized that she was ready for the challenge. "I knew that I had the strength and faith needed during this difficult time," she comments.
An Operating Room Like No Other
The operating room felt very different. It was a negative pressure room (an isolation technique used in hospitals to prevent cross-contamination from room to room) with all machines and equipment covered in plastics (shown below). The entire team's morale seemed subdued because there was minimal communication. Every piece of their protective wear was doubled: hats, goggles, masks, gloves, gowns, and shoe covers.
Dr. Salim tried to mentally treat it like any other case, but it was difficult. She had to adapt to focus and maintain dexterity with the extra pair of goggles and double gloves. She rallied her team and moved as quickly, cautiously, and skillfully as possible to minimize the total operating room time. Dr. Salim wanted to get the job done, help the patient, and keep her team safe.
A Rush of Emotions
Upon reaching home, Dr. Salim called her mother. The first question her mother asked was, "How is your patient's eye? Is it going to be saved?" Until that moment, Dr. Salim had maintained her normally calm, professional demeanor. She had done her job well.
Finally, she felt the weight from the day's events with tears in her eyes, letting every emotion out that was pent up inside, including fear of the virus, the stressful atmosphere in the operating room, and concerns for the patient's well-being. She had taken off her "surgeon's hat" and reflected on the situation from a different perspective. "Sometimes, we never find out the real story as to how patients were inflicted with injuries, but our job is to get the work done and serve them," notes Dr. Salim. On top of it, she was dealing with two medical conditions, instead of one, in the operating room: COVID-19 and a ruptured eye. She was flooded with a variety of feelings: confusion, despair, frustration, feelings she had never experienced before when operating on a patient.
When the emotions settled down, Dr. Salim revisited the day and came to one, single conclusion: she realized why she signed up to become a doctor. Helping patients, no matter the circumstance, has always been her calling. "Every person or case is unique and has the power to teach us," notes Dr. Salim. "I hadn't experienced that many powerful emotions in the operating room in a long time. While it was a difficult situation, it grounded me and reminded me of my purpose in life."
Dr. Salim is extremely grateful to have had the privilege to serve people all over the world and provide quality eye care to all. Although this experience was overwhelming, due to numerous challenges, she feels humbled that she was chosen to take care of this particular patient.